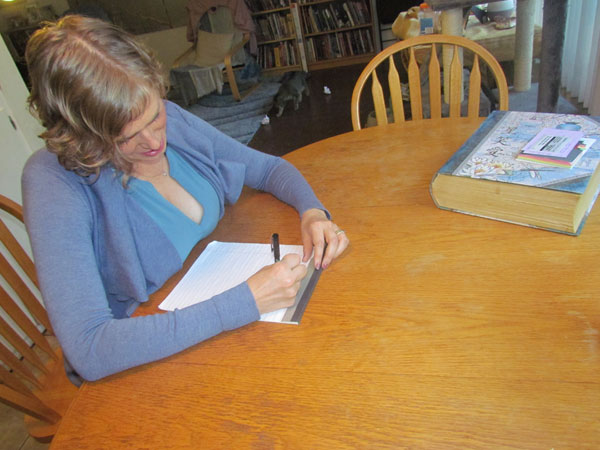 It's 11:00 on a Friday morning. I am sitting at my laptop doing the work God intended. I am writing.
This blog, like the whole of The Poetry Salon, is to be in service of the full flowering of your creative life, if you are trying to "turn pro" as an artist or just want to be more prolific. Whether you are doing this as a hobby, in your retirement, or if you, like me, make producing creative work your full time gig, I want to reflect on the unexpected (and even fully expected) challenges of living day by day as an artist and how I've learned to continue despite them and put my fears, doubts and anxieties in their proper place.
I write today under the protection of my trusty bronze swan and a collage of a headless bear, shaded by a floating umbrella marching through an Alaskan ice dome, a concoction my unconscious assembled in a friend's poetry/collage workshop last month. I figure the headless bear represents my psyche and the Alaskan ice dome is the blank canvas of my mind on a good day. I stop to think how I got to this place where I spend weekdays pursuing my writerly voice instead of filing someone else's memos.
When I was a girl, and told my extended relatives that I wanted to be an artist when I grew up, I got the response that most of us got. (say it with me now), "What will you do for a backup career?" I was stubborn. Though I did, of course, take many "backup" jobs in the interim, I was determined to make a living off of making art if I had to lie, cheat, steal, or kill.
You all know the hard stuff that came up. Getting stuck. Trying to produce good work when you don't feel like it. Juggling personal projects with professional ones. Staying inspired. Inspiring others. Negotiating with a thousand and one little "creative differences" I have with colleagues, clients, cats, the mail, the dishwasher and my own head. Getting enough rest; knowing when to buckle down and keep going, or when to take a break and walk on the beach to stir the juices.
Anyone who's tried it knows the journey is harrowing, but I discovered after the first hundred or so hurdles, it does get a little easier. The world, as it turns out, really needs what we artists are offering. People are more willing to spend money on the arts than any one of my well-meaning relatives would have believed. In other words, I found that I could make a fairly stable living off of being an artist – a poet even, and I found that I was not alone.
So, I want to pass along what's worked for me in five years of keeping the fire going.
Besos!
Tresha