8-Week Core Poetry Curriculum Workshops
Class Description: The Poetry Salon is a fun, nurturing environment where advanced writers come to share their work and develop their craft. Here students deepen their writing practice by learning how to not only write- but rewrite, how to listen to their work and the work of others with a trained ear, how to provide and receive supportive critique and practice the art of revision. Whether you are writing for publication or for personal fulfillment, you will find a supportive environment, and a group of fellow writers and editors to help you develop a greater sense of confidence and wonder as you master this most mysterious art form here at The Poetry Salon.
Here's what you'll get
Deeper understanding of the revision process
A solid grasp of poetic technique
Access to a powerful community of seasoned artists
Personalized feedback on developing and completing your work
Classes run on a seasonal schedule with one three-hour meeting per week. You have your selection of nine units of original lessons and writing prompts designed to propel you to the top of your craft.
                                        Join us!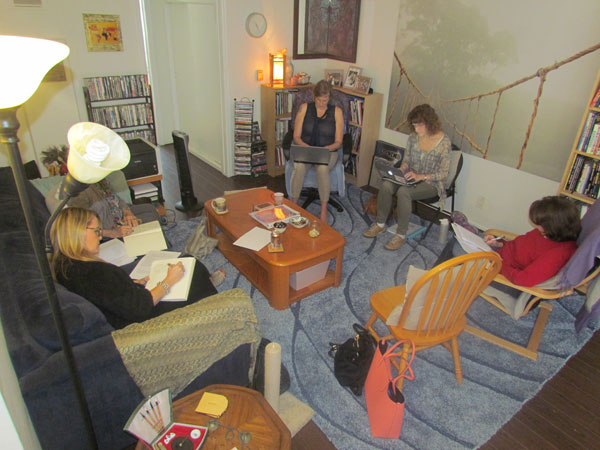 Email Tresha@thepoetrysalon.com for the upcoming schedule of classes.
Diving into Craft : 8-Week Class
$397 ($347 Early Bird Discount, Before 9/18), 8 Student Limit
Wednesday Mornings, 10 a.m. – 1 p.m., Taught by Tresha Faye Haefner

Wednesday Evenings, 6 p.m. – 9 p.m., Taught by Arminé Iknadossian and Arthur Kayzakian
In this course you will delve deep into the technique of a poet's craft. Learn how to get the most out of your use of metaphor, personification, imagery, etc to create authentic, memorable pieces of writing. You will also learn some of the basic skills for giving and receiving useful feedback and revising your poems for authenticity and originality. Learn how to find, what Kim Addonizio would call, "The Heart of the Poem" and build from that heart a fuller understanding of your poems and your craft. No prerequisite.
Rhapsodizing on a Theme : 8-Week Class
$597 ($547 Early Bird Discount, Before 9/18), 6 Student Limit
Thursday Mornings, 11 a.m. – 2 p.m. Taught by Arminé Iknadossian
Friday Mornings, 10 a.m. – 1 p.m. Taught by Tresha Faye Haefner and Arthur Kayzakian
This course is for those who have already taken "Diving into Craft" and are now "out of the book." In this workshop we will focus on each individual writer's particular style and obsessions. Writers will come to better understand what is at the heart of their current work and how to rhapsodize on those themes to create layered, nuanced poems that demonstrate depth and variety of style. This is especially useful for those writers who are putting together a manuscript and want to create poems that work together around a common theme or motif. Together we will develop what Greggory Orr says are essential temperaments of a manuscript – story, structure, music and imagination.
Every class includes one submission workshop, time and place TBD